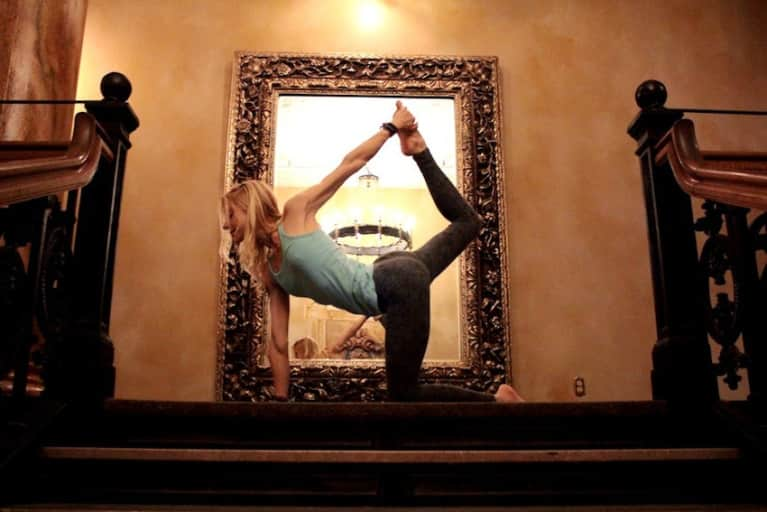 We have all heard of the benefits of yoga. Better breathing, relaxation, flexibility, calming meditation, etc. But something that is often overlooked when people think of yoga is strength! Having and maintaining a solid body frame with muscles and joints ready to take on what comes at them is pivotal in allowing you to stay on the move throughout life. But also, the benefits of flexibility that come with yoga coupled with the new found strength you can achieve will help aid you in keeping your body as mobile as you can be. This is one of the things that people in their 60's - 80's always seem to tell me (unless they are already doing it!). "I wish I would have been doing that all these years". Now, to be honest, I am not a yoga person. I am not as flexible as I should be, I hate holding poses, and I do not get relaxed when someone tells me to breath and relax! That being said, the benefits of yoga outweigh the "cons", and as a result, I try to incorporate some amount of stretching, breathing, mindfulness, and meditation each day.
Below is a link to an article that describes a 10-minute yoga sequence to help keep your spine and body strong and flexible. We all have the time, and we ALL make excuses. "I was busy, I had this, I had company, I had a doctors appointment, I had whatever!" We all rationalize the reasons why we can't, and then look back and wish that we had just done! So let today be the day that we change that. Be sure that you are taking time each day to be a better you. Exercise, eating well, sitting in silent meditation, stretching, reading a book, gardening, the list goes on, are all things that we need to make time for now, so that we are able to enjoy life better and longer!
Click Here To Read The Article!!!
Yours In Health,
Dr. Phil Afghani
Source: https://www.mindbodygreen.com/0-11552/10minute-yoga-sequence-for-a-strong-flexible-spine.html
Dr. Phil Afghani and Dr. Yahaira Roman are Chiropractors at our Port Orange Chiropractic office Atlantic Chiropractic and Wellness Center in Port Orange, FL. Our Port Orange office serves the chiropractic, prenatal and pregnancy care, nutrition, physical therapy, rehabilitation, and natural healthcare needs of the communities of Port Orange, South Daytona, Daytona Beach, Holly Hill, Ormond Beach, Ponce Inlet, New Smyrna, Oak Hill, Edgewater, Bunnell, and Palm Coast. Our office can be reached at (386) 492-4881.
Our Chiropractors have additional specialized training in sports chiropractic, sports injury care and injury prevention, pre-natal and pediatric chiropractic care, whiplash and trauma care following motor vehicle accidents, nutrition, corporate wellness, and many other aspects of natural health. We are here to serve your natural healthcare needs.